"
There is no other place like this on our planet that is bringing together clinicians, researchers, young people and families with the education to support them and the latest technologies to move the field ahead.  As well as serving the local community and our nation, the Centre will be a beacon in the world of young people's mental health when it is needed most."
Professor Shitij Kapur, President and Principal at King's College London
Opening in 2024
The Pears Maudsley Centre for Children and Young People will change the story on mental health and transform the lives of children and young people. Based in south London at the heart of the world leading Maudsley Hospital site, it will be home to the King's Maudsley Partnership, as well as many National and Specialist CAMHS services, the Maudsley and Bethlem Hospital School and state of the art clinical research facilities.
The pioneering new Centre will care for some of the UK's most vulnerable young people experiencing anxiety, depression, OCD, self-harm, eating disorders, trauma and autism – work that will benefit the local community and be shared nationally and internationally.
More than a building
The new Pears Maudsley Centre will be a vibrant and welcoming space for young people and our local community. By involving young service users and their families in its design, we have ensured the building provides age-appropriate spaces and works hard to ease anxiety.
The Centre will be a place that makes things feel brighter, welcomes visitors and meets their diverse needs. Its design maximises natural light and incorporates dimmable lighting, artwork and natural materials to create a calming environment. It will have landscaped outdoor terraces with extensive planting on each of its eight floors — capped by a roof terrace. This will provide the calming, relaxing spaces difficult to achieve in a traditional inner-city hospital building.
Alongside world-class inpatient and outpatient facilities, the centre will house informal areas for families and staff to meet and connect, as well as the outstanding Bethlem and Maudsley Hospital School to allow young people receiving care to continue their education.
Art rooms, spaces for cooking and horticulture therapy, external terraces with outdoor play and tailored learning spaces will contribute to a modern, community-minded space, redefining what mental health services look and feel like.
Art Programme
The role of art has become part of wider discussions in relation to the design of healthcare environments as it can create an increased sense of calm, ambience and impact positively on staff and service users' wellbeing.
A new Arts programme has been developed with the Bethlem Gallery, and will include new, site-specific artwork which will be displayed across the building. The Young People's Art Group, a group of young people with lived experience of mental health conditions, was formed for this project and has taken a leading role in appointing the artists for each commission for the centre. The commissioned artists are Bethany Williams, Marcus Coates and Sahra Hersi.
There has also been an open call, through the Bethlem Gallery, for local artists and artists with lived experience nationally to create new artwork for the staff areas.
Visionary Funders
"We are proud to have our family name associated with a superb new Centre which will deepen understanding of the challenges children face and how they can best be supported."
Sir Trevor Pears CMG Executive Chair of the Pears Foundation
The centre is funded by a combination of investments from South London and Maudsley NHS Foundation Trust, King's College London, Maudsley Charity, and major donors including foundations and individuals.
We are delighted to have the support of leading philanthropists with a commitment to making the world a better place for young people.  We have raised £24m towards our capital fundraising target of £27m and would like to warmly thank all our generous supporters for enabling the Centre to come to fruition.
The Rayne Foundation made a catalyst gift at the beginning of the campaign to encourage further philanthropic giving.  This reflects the Foundation's strong commitment to children's mental health and enthusiasm for the wide-ranging work from mental health conditions that start early in life to those which emerge in adolescence.   
Pears Foundation made our lead capital gift and shares naming rights. The Foundation is committed to building capability and capacity in the mental health sector with support for high quality research and training, together with clinical innovation and increasing access to care. 
We are thrilled to have the support of the Charles Wolfson Charitable Trust who will be supporting our Learning Zone in the Maudsley & Bethlem Hospital School; The Garfield Weston Foundation, who are supporting our work with eating disorders, The Wolfson Foundation who are supporting our imaging suite, Kuok Group who are supporting our wellbeing terrace along with Elizabeth and Daniel Peltz OBE who are supporting the Peltz Community Hall.   
We are seeking funding for the final vital contributions to the capital costs of the Centre, which carry naming rights, together with a wide programme of research, education outreach and clinical innovation – and the opportunity to be part of a world-leading Centre to change the future on young people's mental health.
To discuss joining our group of generous supporters, please contact: Jennie Meadows, Head of Fundraising, Children and Young People's Mental Health.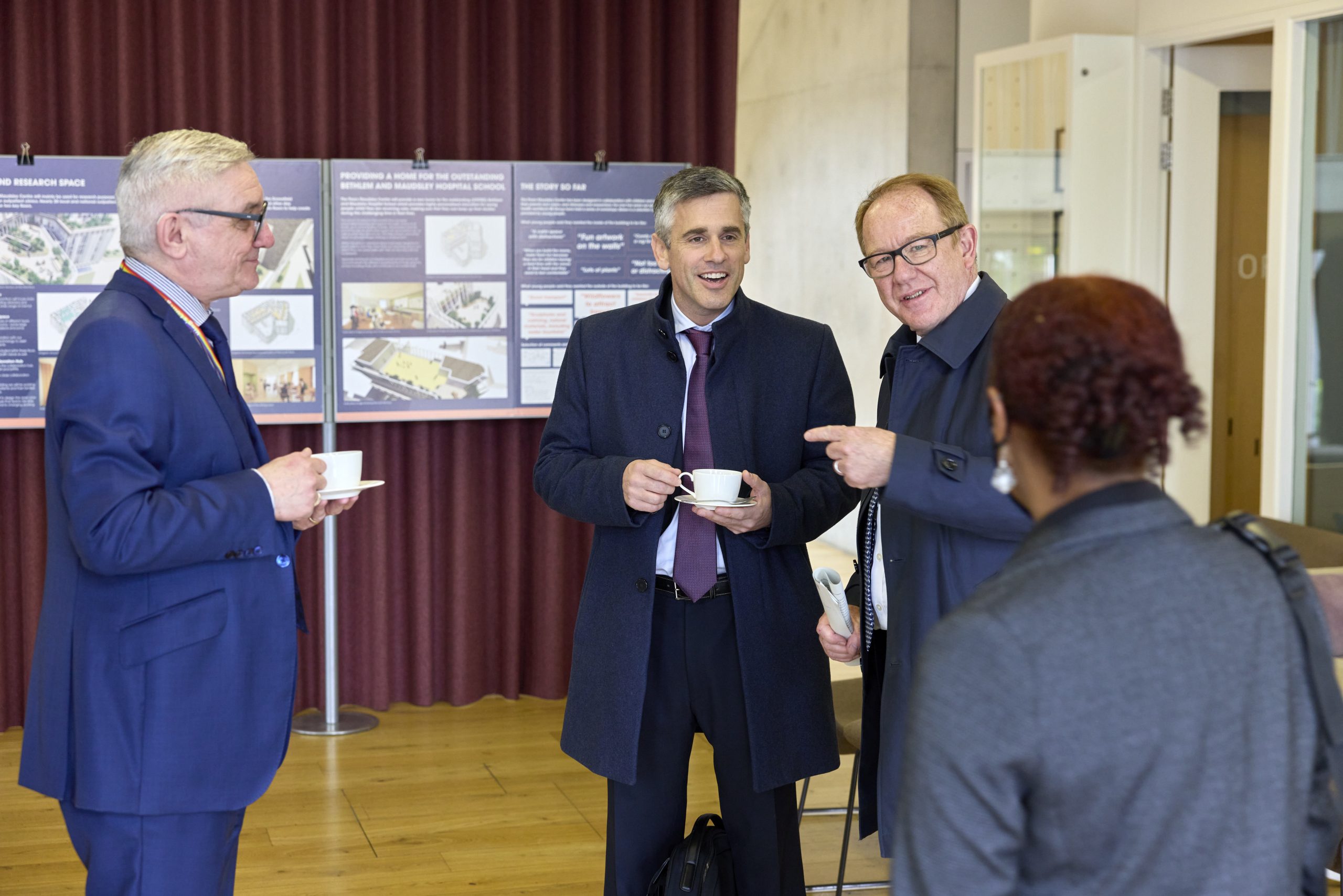 "Thanks to this new partnership, many more young people will be able to cope with their mental illness and live their lives to the full. It's fantastic that philanthropy has, and continues to play, such a big part in making our shared vision a reality."
Rebecca Gray, Chief Executive Maudsley Charity